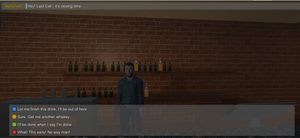 'Memories on The Meter' Greenlit - Findings and Plans
Memories on The Meter has been greenlit. Thank you for voting for us and leaving valuable feedback and encouragement. We received feedback - on things we did right and things we could improve upon. Given below are some of the findings and what we intend to do with that. 
Postitive Feedback  
The Story

 - Many people are drawn in by the story, and are eager to get to the end of it. 

The Setting

- People like the dark, moody atmosphere of the game.
Negative Feedback 
Graphics/looks

- The graphics need improvement. 

Voice acting

 - voice actor for the bartender did not match the expectations of the audience
Seeking more feedback
Seeing how helpful your feedback is, we want you to be able to send feedback more freely. You can send feedback on the game using our contact form, as well as catch up on our Facebook.
Actions taken
As a result of said feedback, we have decided to scrap a major portion of the graphical assets and heavily rework on the remaining to improve the appearance. This will result in the delay of the release. Also, the voice actor for the bartender will be changed.
In addition to this, we are also working to ensure greater ease of use for our players - we intend to offer controller support so that you can play using either keyboard/mouse or controllers if you wish to. Of late, we have been working on implementing said controller related features.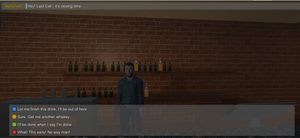 The appearance of the game will be improved, too. While we will keep you posted from time to time on the progress of the same, be sure to check this site.
Conclusion
Thank you for getting this game greenlit. Without your valuable votes, feedback and encouragement this game would never have reached here. Getting you feedback is very important to us. As a result, please be sure to let us know what you think - what works and does not, to help improve the game.