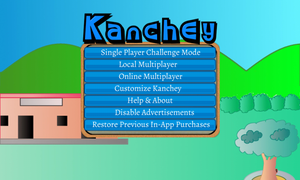 Kanchey is a marble game for iPads. 'Kanchey' is Hindi for marbles. The game is based on a street game played in India, Bangladesh, Pakistan and other South Asian countries. Simply put, the game involves using your striker Kancha (singular for marble) to get other Kanchey to fall in the hole.
Kanchey Trailer
The features of Kanchey include -
Single Player mode with varying levels 
Local multiplayer 
Online multiplayer
Cloud save
Unlockables
Ability to customize one's playing striker - in terms of pattern as well as colour
Simple tutorials
(Some features require an active internet connection and a GameCenter account)
You can visit Kanchey's dedicated site here.
Kanchey for iPads can be downloaded from the App Store -